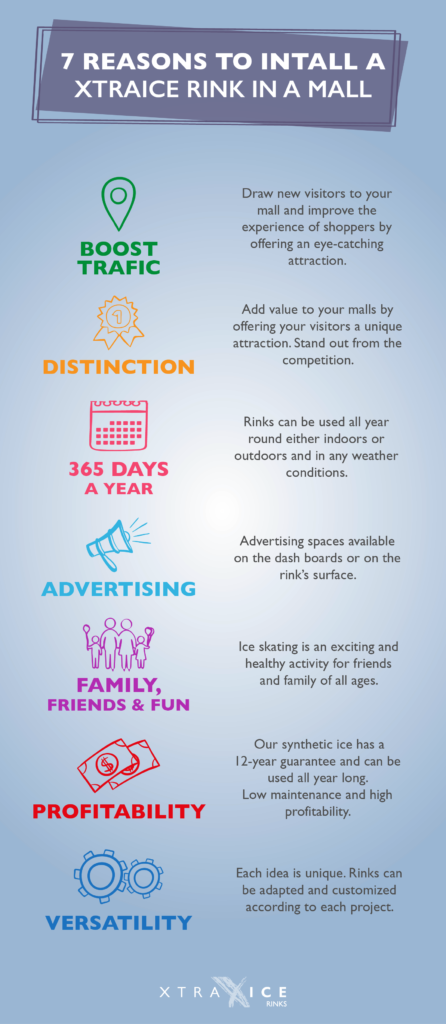 Any business person that seeks to increase the number of visitors, improve their experience, innovate and stand out from the competition should consider installing a synthetic ice rink as the perfect alternative. What's more, the rinks do not require maintenance or operation, are eco-friendly and 100% profitable.
Xtraice offers the possibility of
buying a rink
if you plan to use it all year long but if you are looking to use it on a specific season such as Christmas, you can benefit from
renting one
.
Why should Mall have a Synthetic Ice Rink?
Synthetic Ice is a great feature that draws people's attention.
Going to malls is not only about shopping. Customers feel attracted to the fact that there is a wide entertainment array which needs to be constantly changing. Adding cool new features is the best way to keep people coming back.
The idea of skating on a synthetic ice rink will definitely keep them interested, they will feel the need to visit the mall, see it and try it out.
2. Family, Friends and Fun at the Mall
Ice Skating is a fun family and friends activity.
Ice skating on synthetic ice has become a very popular leisure activity, people love this alternative to conventional ice rinks.
Families and friends are always seeking for the WOW factor. The main reason for them to visit a Mall is having a good time and spending time together. Having fun makes people feel good and switch their indulgent mode on.
Thanks to the technology behind synthetic ice that requires no water or electricity, rinks can be used
all year round
either
indoors
or
outdoors
.
4. Unconventional Advertising.
Advertising on the boards or on the rink's surface
Advertising spaces are highly demanded by customers from different sectors.
The advantage of having a synthetic ice rink relies on the possibility of offering those customers the chance to display their brands in a unique way and at the same time, improve the brand awareness.
Synthetic Ice Rinks can be
custom tailored
. Any design can be included either on the boards surrounding the rink or inserted on the surface. They can also be tuned into
interactive platforms
.
Looks are everything
Installing a synthetic ice rink instead of a conventional one means
energy savings
. Nowadays, environmentally and socially responsible companies have a
better reputation
.
Besides this, the wow and the fun factors will always be in the public's mind. This means they will have a great sensation and will always want to come back.
Return of Investment
Post installation expenses are really low since rinks do not require operation or maintenance nor electricity or water. The synthetic ice panels have a 12 year guarantee and can be utilized 12 months a year in any weather condition. They are 100% profitable products.
Adaptable and customized
Each and every project is unique, therefore there are
countless possibilities
and types of synthetic ice rinks, ranging from size and shape to boarding, decoration and interactive elements.